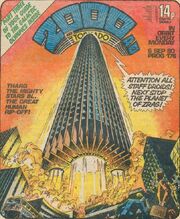 King's Reach Tower
was home to Tharg's Nerve Centre and was a disguised starship
[1]
which occasionally went on intergalactic missions. It was 32 storeys high
[2]
.
The address for letters was: Tharg, 2000AD, King's Reach Tower, Command Module 2012, Stamford Street, London SE1 9LS, England, Nr Europe, Earth, first star past Centauri, Milk Way Galaxy, Continuum No. Beta Z[3].
The Tower contained (in order from the top):
A later cutaway showed a changed layout, though some features were omitted for security reasons[5]. What was shown contained (from the top, all sections taking up one storey unless otherwise noted):
Behind the Scenes
Edit
was the name of a building in Stamford Street, central London which was home to
IPC Magazines
from 1978, the date of its construction, until 2007, when IPC moved to the Blue Fin building in nearby Bankside. During this period it was thirty storeys tall at 111 metres (364 feet).
The architect was Richard Seifert, it was designed by Kohn Pedersen Fox and of the Brutalist school of architecture and built by John Laing Construction Limited. In January 2013 developers CIT renamed it the South Bank Tower, and will be adding six new floors and creating 173 apartents and retail units at the base by the time the redevelopment is completed in 2015. It will be 128.4 metres tall after redevelopment.
Coordinates: 51°30′26.7″N 00°6′27.5″W[7]
IPC Magazines Ltd
Edit
As home to IPC Magazines, the building was part of the postal address for reader's letters, and was incorporated into the mythology of many IPC publications. Many of the other comics shared editing staff and creators (often under nom de plumes) with 2000AD.
Scream! was a horror-themed counterpart to 2000ad that ran for 15 issues from 24 March 1984 to 30 June 1984, with two of the ongoing strips transferring to Eagle comic. Ghastly McNasty, the fictitious editor of IPC's lived in dungeons beneath King's Reach Tower. Notable creators who also worked for 2000AD include Alan Moore, John Wagner, Eric Bradbury and Peter Richardson.
Ernie was a fictitious eagle who appeared in comic strips by Dave Follows for about a year from it's 1980s relaunch on 27 March 1982 and lived on top of the building. From 24 September 1983 the Eagle was relaunched again, with Ernie serving as the mascot of the relaunched comic until it merged with Scream.
After the demise of Scream, Max the computer from The Thirteenth Floor (written by 'Ian Holland' and drawn by José Ortiz) became the fictitious editor of Eagle[8].
References
Edit
Community content is available under
CC-BY-SA
unless otherwise noted.