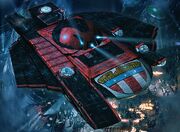 The Manta Prowl Tank was a heavily armed and armoured Mega-City One Justice Department street-level anti-grave craft brought in to service on the streets of Mega-City One in November 2105[1] intended as a replacement for the Mark 4 Pat-Wagon[1].
In 2105 / 2106, contraband Manta Prowl Tanks were still considered to be new and could be purchased for 60,000 creds[2][3].
Specifications
[
]
IDW
[
]
The experimental model of the Manta was piloted by Judge Larter[4].
---
References
[
]