This prog saw the start of three multi-part stories, something that hadn't happened since the very first issue. There was a five-part Invasion! story, a three-part M.A.C.H.1 story, and a two-part Dredd. The Dredd story was notable for the first appearances of Judge Giant, Judge Griffin, and the Academy of Law itself. The prog also featured the final part of the Harlem Heroes story, the last of the original stories from Prog 1 to come to a conclusion. After this prog, the Heroes would take a break for a couple of months to return in Prog 36. Also in this prog were another of Tharg's Future Shocks, the continuing story of Shako, and a fourth supercover saga from Brian Bolland.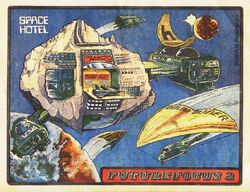 References
Edit
Community content is available under
CC-BY-SA
unless otherwise noted.