Riot Foam was a foam developed to cover any disturbance and solidify around everything in it[1].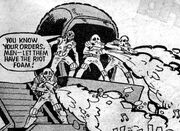 It was new in 2099 when Judge Joe Dredd called in the Riot Squad to smother the voices of Ma 'Green Fingers' Mahaffy's brainblooms, as they were singing the Humming Song[2].
It was used by the Riot Squad in 2103[3].
In 2105 / 2106, contraband Riot Foam could be purchased for 1,000 creds a gallon[4][5].
If drawn, the phasing player must choose any one blocker counter in play, rolling 1d6 and removing it from play on a 1-4[1].
Community content is available under
CC-BY-SA
unless otherwise noted.