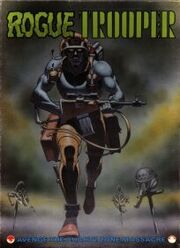 Rogue Trooper was a boardgame released by Games Workshop.
Players used plastic miniatures of G.I.s, while additional metal figures were available separately from Citadel Miniatures[1].
mapboard
6 plastic GI playing pieces
6 character sheets
1 Traitor playing piece and base
1 counter sheet containing 70 counters
283 playing cards
GI's Battle Manual
GI's Orientation briefing
6 dice
Community content is available under
CC-BY-SA
unless otherwise noted.